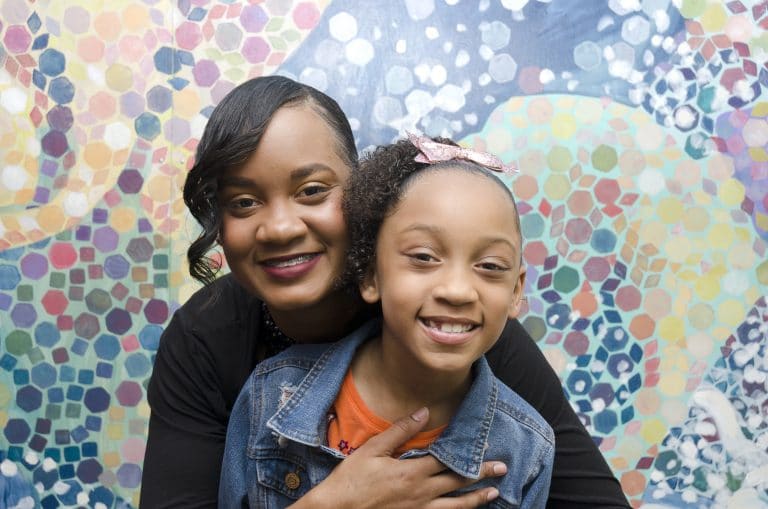 When Aubré Battiste was a young mother working at a call center, she began experiencing pain in her ear. Aubré bounced from doctor to doctor for eight years, trying to figure out what was wrong and how she could find some relief. "I was depressed and felt hopeless," says Aubré. She eventually learned she had damage to her ear and was sent to Columbus Speech & Hearing (CSH) to be evaluated.
Aubré met with CSH Audiologist Dr. Emily Kirkendall and was diagnosed with tinnitus and hyperacusis. Tinnitus is the perception of ringing or buzzing in the ear, while hyperacusis means a person is overly sensitive to certain sounds. So sounds that would generally be a little loud to the average person could be excruciating to a person with hyperacusis. Dr. Kirkendall fitted Aubré with a hearing aid and started her on sound therapy to help give relief from the tinnitus and to help her tolerate sounds that had been painful to her.
Aubré works as a recruiter of guardians for individuals with developmental disabilities. Talking and listening are critical to her profession. The pain in her ear prevented her and her family from living a rich, full life. Going to a restaurant was painful, and even her daughter's laugh would cause her physical pain. As a result, they rarely left their home.
When Aubré came to CSH, she had just started her new position and was concerned about being able to afford a hearing aid. "For the first time, I had hope and didn't want that to be taken away." Dr. Kirkendall talked with Aubré about our Hearing Aid Donor program. The CSH Hearing Aid Donor Program is for patients who do not qualify for Medicaid or other state-funded programs but may not have the financial resources for brand new hearing aids. In this program, people donate hearing aid(s) to CSH, where they are refurbished and then given to those who qualify for our program.
"I finally feel like I have my life back on track! I'm happy, not depressed, and I hear my baby laugh without pain!"