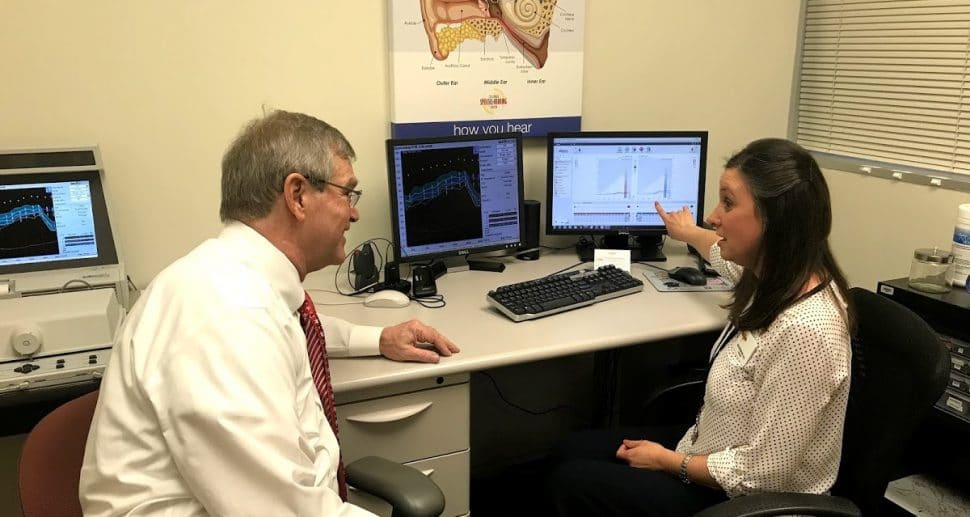 (COLUMBUS, Ohio) – Columbus Speech & Hearing (the Center) is pleased to announce it has received a $100,000 grant from The Columbus Foundation, with special support from the Albert J. and Eve G. Pfeiffer Fund of The Columbus Foundation. These funds will support the Audiology & Hearing Aid Services program at the Center, allowing for a state-of-the-art upgrade in audiological testing equipment.
"We're very proud to be the leading provider of hearing healthcare in central Ohio," said Director of Audiology & Hearing Aid Services Dr. Karen Mitchell, "This grant allows our audiologists access to state-of-the-art equipment so we may continue to provide the highest quality services with personalized care and support."
The Center estimates that roughly one in three people between the ages of 65 and 74 has hearing loss―a condition that can lead to additional concerns like depression and dementia in older adults. The equipment upgrade allows audiologists at the Center to have access to the latest in audiological technology, ensuring the best and most up-to-date support for more than 3,500 audiology clients who receive services at the Center each year. Columbus Speech & Hearing continues to strive to be the recognized leader providing personalized service and caring attention to help the people it serves achieve their full potential.
"The Columbus Foundation has been a strong and consistent partner for the Center for many years," said the Center's President & CEO James O. Dye. "We're grateful to have such meaningful support that allows us to make the most impact on our community."
About Columbus Speech & Hearing
Since its founding in 1923, Columbus Speech & Hearing has provided quality, patient-centered care for individuals with communication and vocational challenges in the Columbus metropolitan area and beyond. The Center offers many unique services in the realm of speech-language pathology, audiology, vocational rehabilitation and community education. It is proud to offer a warm and welcoming environment to all people. For more information, visit columbusspeech.org.
About The Columbus Foundation
The Columbus Foundation is the trusted philanthropic advisor® to more than 2,000 individuals, families, businesses, and communities that have created unique funds to make a difference in the lives of others through the most effective philanthropy possible. Serving the region for 70 years, The Columbus Foundation is the seventh largest community foundation in the United States. The Foundation's online giving marketplace, PowerPhilanthropy®, makes it possible for everyone to access valuable information about nonprofit organizations in central Ohio.
The Foundation's GIVING STRENGTH framework informs its competitive grantmaking program. Through it, the Foundation seeks to impact a broad spectrum of community needs to improve the quality of life for central Ohioans.